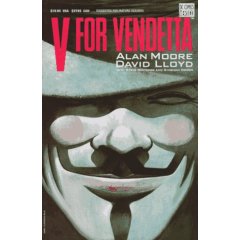 It's not long, it's very good, and time is running out for you to experience this masterwork before your impressions of it get all mucked up by the mornons who brought you "The Matrix: Reloaded" and "The Matrix: Revolutions".
Like the Midwestern yokels they are, the Wachowski Brothers thought they were really on the cutting edge by recycling intro to philosophy and calculus 2. Who knows what freshman level class they will co-opt to ruin Alan Moore's book. My deepest fear is that it will be "creative writing". They have already reset the story from taking place in a future England that embraces fascism for safety to an alternate universe in which the Nazis won WWII. By the time this is released, I expect lead character and terrorist V to be re-imagined as a rapping surfer.
In any case, while you may not have had time read my analysis of "disco duck", you need to make time to read this. Before it's too late.
-Miguel Sanchez 09:59 EST | |